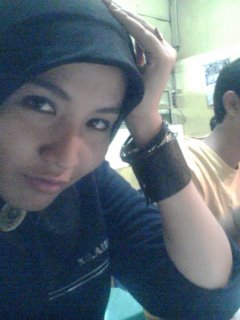 Monday night..first day of the week..hactic day..and i got maag on that day!!Bad one!!it was so irritating.So that day i had only lunch..i didn't take breakfast coz it's not my habit to eat something heavy in da morning..then i went to depok.when i get there,suddenly i want to buy some snacks..i ate lot of them :D
i didn't eat anymore since then..so in the nite i had class.that's when i started feeling roalercoaster in my tummy.But i tried to hold it&continuing study..
after class, me&my friends wanted to have dinner together.But the waiter just got me really pist!!i had to wait for my order for about 30minutes!!When i reordered,the waiter said that my order is freshed out!!Aaarrgh..my tummy got worse!!But i just couldn't shout to the waiter so i ordered the other menu.
When i started eating,suddenly i felt my tummy movin upside down..it was horrible!! i tried to coolin down myself,tried to hold my tears that already in the fag of my eyes..then i gave up. i cried..yeah baby,i cried in front of my friends..Hoho,the strong girl named "iwed" finally gave up with this problem. i couldn't stand, i swear God it was hurt me till death!!
My friends immediately took me to my dorms&brought me some medicine so i can take a rest till i get a better condition (thanx fella'..luve u all)
Fiuhh...i should be more proud&love my body since then.My healthiness is the most important of all. Thank God i still can eat everything i want, thank God i don't have to beg someone to feed me..now i am a better "iwed"..a more-thankfulness-lady ^-^